Nicole Hollady Puzan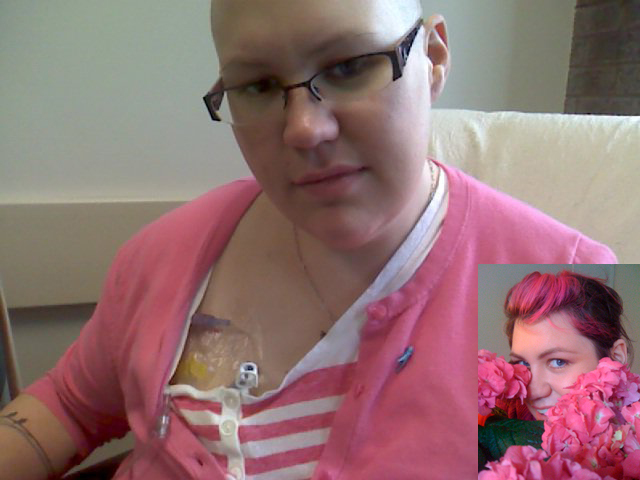 I often say the two years between my daughter's ovarian cancer diagnosis and her death at the age of 28 years were the best worst two years of my life. I always knew my girl, Nicole Hollady Puzan, was strong. She'd dealt with more adversity in 26 years than many people experience in a full lifetime, but I honestly didn't realize how courageous she was until she let me into the most private and intimate days of her short life. It was a gift I thanked her for every single day.
We realized something was very wrong on Christmas Eve 2009. She was 26 years old, working 16 hour days as the manager for a prominent DC glass school and also as a glassblowing assistant for two other women artists. It's hard work and explained away the back pain and fatigue, until that night when she showed me how bloated she was and said she was having a difficult time breathing. Ovarian cancer was the first thing that came to my mind. I'm glad I didn't know what the next two years would bring. During her first surgery, which happened during DC's Snowmagedden 2010, the surgeons removed 14 liters of fluid and determined her ovarian cancer was Stage IV. It was the beginning of the process of realization that, thankfully, doesn't happen overnight.
As Nicole's mother, primary caregiver and medical advocate, there were dozens of difficult things to watch Nicole deal with. The obvious ones: Tests. Surgery. Chemo. Losing her precious pink hair. But the hardest was watching her give up her dreams…one big dream after another. And each sacrifice she made to this damned disease was one step closer to her realizing she was not going to survive. A hard pill to swallow when you're just hitting your stride.
First, she realized she would never get pregnant. Okay, I could talk her off that ledge with discussions of adoption or her partner carrying a baby. Ah, right, partner not in the future. Or marriage. Keeping friends was hard enough. Not many twenty-somethings want to face their mortality. No big art show. Hawaii, the first thing she requested when she came out of her second surgery seven hours too soon and realized that was bad news? Nope. No being Maid of Honor at three of her closest friends' weddings, two of whom ended up with a memorial table decorated with Nicole's photo and artwork instead. No more tattoos, though she did manage to squeeze in a last big whopper (with the oncologist's encouragement) between chemo regimens. No point in going to the dentist. No sense in renewing the car insurance. No new eyeglasses when her prescription got too weak. No point in wearing glasses. And then she was gone.
But here's the beautiful thing about Nicole. She didn't suffer these losses in silence nor did she complain. She just wanted to talk about living with cancer – and living while dying from cancer – as openly and honestly as possible. She worried about how her brothers would handle her death and what the family would be like when she was gone. She asked for and accepted help with grace and dignity, which requires a tremendous amount of maturity, trust and courage, something I now realize doesn't come naturally to most of us. It wasn't easy talking about these topics every single day, but I couldn't imagine NOT talking with her about them. What else was important?
One night not too many weeks before she died, Nicole was watching me doing dishes, getting medications ready for her IV, and doing an ostomy supply inventory when she said, "I love you, Mom. Thank you." She made being her mother and her caregiver very easy, but losing her so very hard.
– Claire Hollady, 11/22/2013
---