No Evidence of Disease in Theaters Nationwide February 4th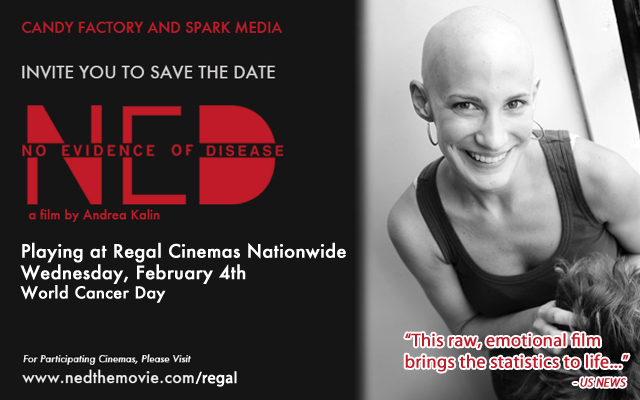 One Film. One Day. One Goal.
Join Regal Cinemas for an exclusive screening of the award-winning documentary No Evidence of Disease on World Cancer Day, Tuesday, February 4th. Below the belt cancers, a band of GYN oncologists, and rock 'n' roll come together in this must-see film that will rock you to awareness.
Save the Date! Spread the Word! Make Some Noise!
For theater details and ticket info, go to www.nedthemovie.com/regal.
No Evidence of Disease will screen in the following cities on February 4th:
Birmingham, AL – Regal Trussville Stadium 16
Gilbert, AZ – Regal Gilbert Stadium 14
San Diego, CA – Edwards Rancho San Diego Stadium 15
Los Angeles, CA – Regal LA LIVE Stadium 14
Berkeley, CA – UA Berkeley 7
Newport, CA – Edwards Big Newport 6
Oakland, CA – Regal Jack London Stadium 9
Fresno, CA – Edwards Fresno Stadium 22 & IMAX
Irvine, CA – Edwards Westpark 8
Denver, CO – UA Denver Pavilions Stadium 15
Waterbury, CT – Regal Brass Hill Stadium 12
Washington, DC – Regal Gallery Place Stadium 14
West Palm Beach, FL – Regal Royal Palm Beach Stadium 18 & RPX
Atlanta, GA – UA Tara Cinemas 4
Savannah, GA – Regal Savannah Stadium 10
Chicago, IL – Regal City North Stadium 14 IMAX & RPX
Indianapolis, IN – UA Galaxy Stadium 14
Boston, MA – Regal Fenway Stadium 13 & RPX
Hyannis, MA – Regal Cape Cod Mall Stadium 12
Bethesda, MD – Regal Bethesda 10
Walled Lake, MI – UA Commerce Township Stadium 14
Minneapolis, MN – Regal Brooklyn Center Stadium 20
Kansas City, MO – Regal Kansas City Stadium 18
Omaha, NE – Regal Omaha Stadium 16
Hooksett, NH – Regal Hooksett 8
Albuquerque, NM – Regal Winrock Stadium 16 IMAX & RPX
Albany, NY – Regal Crossgates Stadium 18 & IMAX
New York, NY – Regal Union Square Stadium 14
Buffalo, NY – Regal Elmwood 16
Rochester, NY – Regal Henrietta Stadium 18
Charlotte, NC – Regal Ballantyne Village Stadium 5
Cleveland, OH – Regal Severance Town Center Stadium 14
Tulsa, OK – Regal Promenade Palace Stadium 12
Portland, OR – Regal Lloyd Mall 8
Philadelphia, PA – UA Riverview Plaza Stadium 17 & RPX
York, PA – Regal West Manchester Stadium 13
Quakertown, PA – Regal Richland Crossing Stadium 12
Houston, TX – Edwards Greenway Grand Palace Stadium 24 & RPX
Austin, TX – Regal Gateway Stadium 16 & IMAX
Dallas, TX – UA Galaxy Theatre Stadium 10
San Antonio, TX – Regal Huebner Oaks Stadium 14 & RPX
Richmond, VA – Regal Short Pump Stadium 14 & IMAX
Fairfax, VA – Regal Fairfax Towne Center 10
Seattle, WA – Regal Meridian 16
---