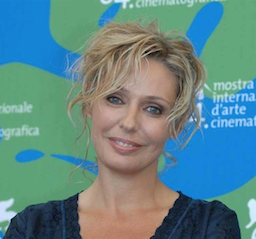 Barbara Cupisti
---
Barbara Cupisti is a multiple award-winning documentary film director, TV producer and host, as well as a renowned actress. From 2007 to 2017, she completed ten documentary films focused on social issues all over the world, earning patronage from UNICEF, UNHCR and Amnesty International. Her films have received several awards at international film festivals. Most notably, her film "Madri" (Mothers), shown at the Venice Film Festival in 2007, won the David di Donatello for Best Documentary.
In 2013, her film "Fratelli e Sorelle, storie di carcere" filmed inside Italian prisons, won the Ilaria Alpi, the nation's most prestigious award for journalism. In 2016, her documentary "Exiles: The Wars" was awarded with a Nastro d'Argento Speciale, the oldest movie award in Europe. RAI TV regularly broadcasts Barbara's documentary films on its TV channels reaching millions of people.
In 1998, Barbara made her debut as host on Italian state television (RAI) with a live broadcast program, "Survival" in prime time on Saturday night, featuring correspondents and guests from around the world. From the late 1980s until 2007, she wrote and produced television programs and documentaries for RAI, as well as private broadcast networks and cable TV channels focused on leading figures from the world of arts, literature music and culture.
Barbara Cupisti began her career as a leading actress in Italian and French films and television serials. For twenty years, she worked with prominent directors all over the world, including Dario Argento, Norman Jewison, Paul Planchon, Antonio Pedro Vasconcelos, Jhon Lofve, Gabriele Salvatores. In 2002, she appeared in her final film, the French production Total Kheops with Marie Trintignant and Richard Boheringer. In 2008, Barbara served on the international jury at the Venice Film Festival and is member of the Italian Film Academy.